HAPPY BLOGIVERSARY to me!
CUE THE CONFETTI! 
(Or glitter in this case. I love glitter.)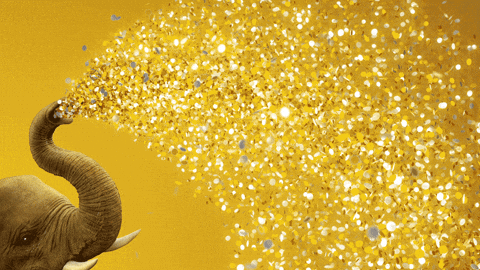 Today, marks one year since I started this blog- 12 months, 52 weeks, 365 days, or 525,600 minutes. (However you want to quantify that.) 
My blog wasn't launched with much fanfare and that's how I wanted it. It was something on my bucket list and well I did it. I didn't think anyone would really read it, but I guess you do. Thank you.
Now as I enter my second year, I sometimes struggle with what to write. I often ask myself if anyone REALLY cares to read what I am writing. That's what I tell myself anyway. I know there is an audience for my blog and I know people care, but I think the real question is why do I not care as much or make so many excuses not to write?
I am not sure what the exact answer is, but I plan to write more.  (If that's ok with you.) I plan to write deep think pieces, but also fun pieces that showcases more of my humorous side. I plan to ask for more guest writers because I really love reading different people's perspectives. I plan to delve into subjects no one wants to talk about. (Not politics. So don't cross your fingers on that one.) I plan to "brain dump" here on this platform. I plan to show you my decorating skills. (According to some of my close friends, they want me to help decorate their space. I may take them up on that.) The possibilities are endless, but one thing's for sure, there will be MORE! 
So, as I celebrate one year blogiversary, get ready to embark on a new journey with me.
I am happy to announce I will be starting a podcast called, "The Moment You Realize". It will available on the "Anchor" app. You can download it in the App Store or on Google Play Look for my logo below.
The Moment You Realize will be like a virtual "confessional" where I and my listeners will talk about our experiences, thoughts, emotions and everything in-between as we seek out how to become the best version of ourselves, by being who we are and doing the things that light our souls on fire. (Did you notice how I incorporated my #SeekingBeingDoing? Read it again.)
As many of you know, I have always been candid about my life, but I want to give that same option to others. I believe as humans we yearn to know we aren't alone and I hope my podcast will provide comfort, community, and a safe space to pour our hearts because we REALLY are all in this together. 
I am terrified, but excited to take the next step in my journey. I have a lot to say and I know FOR SURE there is an audience for that. The podcasts will be short in length, but packed FULL of ideas, brainstorms, and fun. I am looking for topics so leave topic ideas in the comments on this post.
My launch is slated to take place on June 4th so continue to watch this space. 
Thank you for all the love and support over the past year. I appreciate you subscribing and following along. It makes my heart smile.
I turn 40 in FIVE short months and honey I am ready! Ready to live out loud and I plan to be totally unapologetic about it, so strap on your seat belts. It is going to be a bumpy, fun, and crazy ride!
xo,
B
Please reload